SALCHAIN - The world's finest conveyor and elevator chains.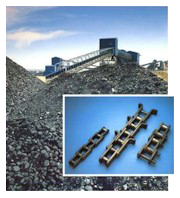 Backed by the vast resources of the Baughan Group, Salchain has a long term commitment to the industries which it serves and provides products of a high quality standard with exceptional customer support.

Salchain products are used extensively in Mining, Sugar, Food, Fertilizer, Timber and many other industries. Our comprehensive product range includes chains manufactured from rolled steel, castings and forgings. Straight or cranked link chains are available with a variety of special attachments to meet our customers' needs. To supplement this range of chain products, sprockets are supplied on request. All of our products are manufactured from a range of Stainless, Carbon or Alloy steels with stringent quality standards being applied in a modern fully equipped workshop environment. Salchain also offers a range of roller transmission and other popular chains to complement our extensive our staff includes experienced and university qualified engineers and metallurgistsrange of conveyor and elevator chains.

To facilitate our manufacturing operations in meeting clients expectations, our staff includes experienced and university qualified engineers and metallurgists.

For over 40 years Salchain has supplied a range of conveyor and elevator chain products to customers throughout the world. All products are manufactured to strict quality control standards to ensure full compatibility with internationally recognized chain specifications. A well established client base, developed over many years, is testimony to Salchain's product quality and excellent customer service.

Salchain's Quality
Assurance System
complies fully with
ISO 9001

Salchain products are successfully used in the following countries:

USA | Australia | United Kingdom| Brazil | Burundi | Canada | Ethiopia | France (Reunion) | Indonesia
Ireland | Madagascar | Mauritius | New Zealand | Zimbabwe | South Africa | Swaziland | Uganda | Venezuela
Kenya | Ivory Coast | Malawi